Paraphrasing tools that employ AI and NLP are what we call AI paraphrasing tools.
Working On Machine Learning In AI Paraphrasing Tools
Machine learning is a key ingredient in content creation today. So, what role does it play in paraphrasing tools?
Paraphrasing tools are a leading aspect of content creation today. They help writers rewrite, reuse and repurpose content without any hassle. However, the one key element behind them is machine learning.
So, how exactly does it all work? What role does machine learning play in content creation, particularly in paraphrasing? It's a wide-open question, which requires us to understand a few key things. So, let's get started:
What Is Machine Learning?
Machine learning is one of the leading branches of artificial intelligence. As the name suggests, instead of relying on elements such as user input, this aspect of AI learns on its own based on data generated and experience.
The four major steps of machine learning include:
Gathering data & material
Preparing and choosing a model
Training and evaluation
Prediction and forecast
Through these various aspects, machine learning is able to execute tasks such as grammar correction or paraphrasing. A prime example of this would be the text predictor in your mobile phone's keyboard.
What Are AI-Paraphrasing Tools?
These AI-based programs rely heavily on machine learning and NLP to execute their devised tasks, such as rephrasing or revamping content.
How do these tools do that?
Reading and understanding the initial content's state
Analyzing common terms, keywords, etc.
Picking various synonyms
Shifting sentences, changing content voice (active to passive, and vice versa)
All of these elements rely heavily on AI and NLP, as machine learning takes a massive chunk of the credit during this process. Because AI algorithms depend on AI understanding various elements before changing them up.
3 Workings Of Machine Learning In AI Paraphrasing Tools
The way Machine Learning works in AI paraphrasing tools isn't difficult to grasp. It depends on various elements to execute specific tasks. One of which is to translate human language, i.e., written content, for the machine to rephrase.
So, the three major working of machine learning in paraphrasing tools are as follows:
1.   NLP Converting Content For The Machine
NLP or natural language processing is one of the key branches of AI, which helps the machine grasp content written by humans. This language element helps the computer understand and read content written by humans, then turns them into machine language.
It's one of the first and primary pillars of paraphrasing tools today because it helps machines learn the content you write. This helps the machine grasp the ideas and content's specific elements, such as terms, words, etc.
2.   Detecting Content
This aspect of any paraphrasing tool deals with detecting the content itself. When using the right machine learning elements, a paraphrasing tool seamlessly grasps the content. This aspect of NLP and ML is most present in plagiarism checkers besides paraphrasing tools.
3.   Paraphrasing Through AI Algorithms
This phase of ML is divided into two primary sections. Which are Paraphrase Identification and Paraphrase Generation.
The first one deals with identifying content with similar meanings and keywords. As the name suggests, the second element works towards changing the content.
Now, it depends on the tool, if it provides you with the option of content tone change, modes, etc. However, a tool like ParaphrasngTool.AI relies on AI to decide the best course of action.
What Do ML & AI-Based Writing Tools Do: A Demonstration
AI-based paraphrasing tools rewrite content from scratch. Their primary making is AI and NLP, with sprinkles of machine learning. However, we have already established that, so it's imperative that we watch it work now.
If you google "paraphrasing tools," you will find a plethora of options. However, the best ones are the kind that employs the elements we've talked about so far.
That's why our lot pick is Paraphrasingtool.ai for this demonstration. It employs the latest tech in AI, NLP, and ML. And because of these elements, it's one of the best tools available today. So, let's see how it all works:
1.   Paraphrase
Paraphrasing content isn't necessarily about changing it upside down. Sometimes, the problems can be minuscule, and if a tool is changing it entirely, then it's regardless of the elements that work in this particular content.
Here's an example:
"I would like to ask if it's possible to have a machine learning system that summarizes or paraphrases a passage in natural language for human reading. The system should understand all parts of speech, such as example, a noun, a verb, an adjective, etc. Then it should output a summary."
This paragraph isn't bad by any stretch. However, it does have a few problems. So, can ML identify it?

Yes, it can. As you can see, the content is largely the same as it was initially. However, based on its learning experience, the machine only changed the bits it recognizes as errors/something that didn't work.
2.   Detect Plagiarism
Plagiarism detection is one of the elements where machine learning shines the brightest. Because this is where it needs to identify similarities between the two contents. Since NLP and ML are two of AI's major elements to study such troubles, here's how they detect them: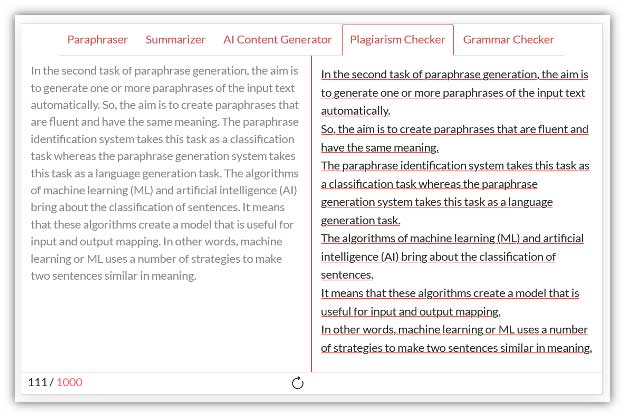 As you can see, this plagiarism checker is telling us exactly how much of the content is plagiarized—all of it. This is yet another stellar example of Machine Learning's role in any writing tool.
3.   Generate Content
Machine learning gets yet another chance to shine when a user generates text with the help of AI. Since it's machine learning that reads the prompt, it helps the AI formulate content such as this:

The prompt, in this case, is the sentence written on the left-hand side, whereas the final outcome is on the right-hand side.
Conclusion
That's the working of machine learning in AI paraphrasing tools today. Therefore, if you're looking to use paraphrasing tools that employ ML and other AI elements, your answer is yours.