Rising leverage in bitcoin (BTC) derivates combined with the lowest levels of volatility in more than a year is currently keeping traders on edge for a potentially explosive move in either direction.
The signal from the derivatives market comes after open interest in bitcoin futures across exchanges reached a level not seen since November, per a report from crypto researcher Arcane Research.
According to them, it is the "boring" market in December that has made leverage more attractive among traders, who generally rely on volatility in order to generate profits.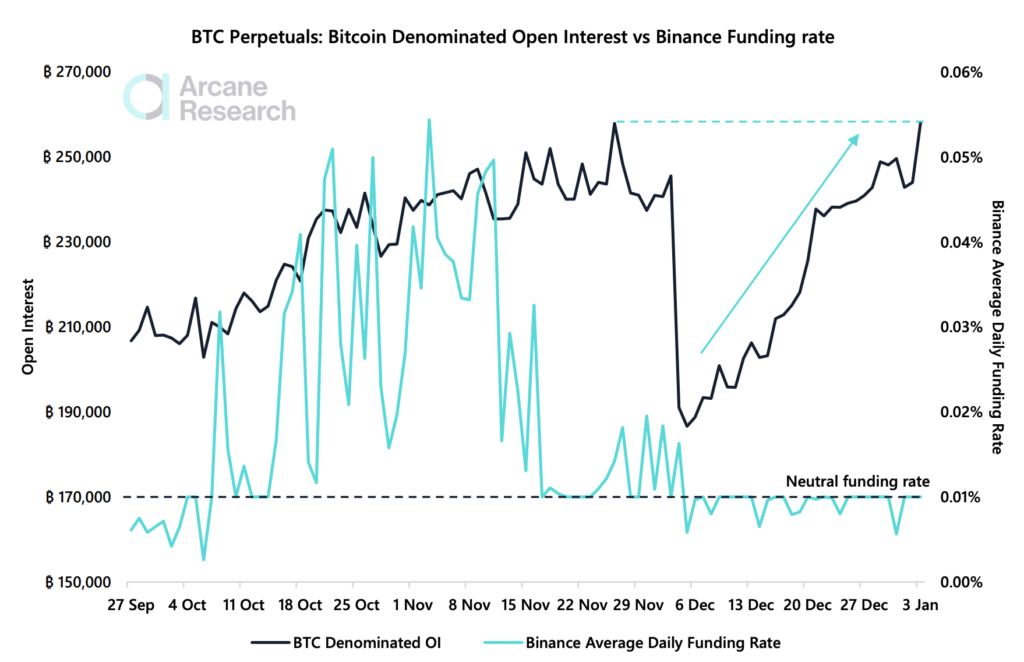 Source: Arcane Research
The total open interest in bitcoin perpetual futures is back at highs not seen since November, the report said, adding that leverage in one of the stablecoin-margined bitcoin futures contracts on Binance has doubled since December 5.
The rising leverage and reduced volatility over the past month mean that the market "seems ripe for a move," Arcane's report further said, noting that a bullish short squeeze is "a plausible scenario" because of "neutral to slightly below neutral" funding rates in the bitcoin futures market.
Realized #Bitcoin volatility, is the lowest since the 2020 ?rally. Whichever way we go, it will be supernova?
?@skughered pic.twitter.com/Yxfi2dB3IL
— Adam (@TraderSkew) January 5, 2022
This is the tightest range I've seen ppl flip bias over. Down less than 1% Alameda is going to cascade liquidate us, up less than 1% price target 150k by February.

— Cobie (@cobie) January 5, 2022
Meanwhile, according to a private note by analysts at Bespoke Investment Group, lower volatility could be "the most interesting outcome for price action" in the crypto market in 2022, Bloomberg reported on Tuesday.
Commenting in the same article, TD Ameritrade Chief Market Strategist JJ Kinahan said that high volatility has been a problem for investors looking at crypto, explaining that it is difficult to use it as "a trusted long-term financial play if it has incredible volatility."
"It just makes people too nervous or too nervous to even be involved, so the more stability a product like that starts to see, the wider the audience it attracts," the market strategist was quoted as saying.
At 15:04 UTC, BTC stood at USD 46,609, down almost 2% for the past 24 hours and 2% for the past 7 days.