Wearable technology, commonly known as wearable, has become quite popular among consumers over a past decade. These are modern electronic devices that can be worn as accessories, installed in clothing, and can be embedded in human body.
Smartwatches like Apple watch is one of the most common and well known wearables in the market. Other than that, there are a lot of modern wearable technologies to clothing and jewelry such as head mounted displays (HMDs) and so on.
Along with all basic computing functions, wearable devices can also perform unique health tracking services when keep in contact with human body such as sleep monitoring, calorie tracking and others. With such advanced technologies in wearable devices, enterprises can come up with more productivity in the workplace.
According to a report published by Allied Market Research, is projected to reach $184,403.60 million by 2031, growing at a CAGR of 12.8% from 2022 to 2031. The continuous growth of mobile networks is enabling the development of wearable technology to a great extent.
Popular Modern Wearable Eechnologies
Smartwatches:
Smartwatches can be connected to a smartphone, through which the user can read, write, and send new messages directly from their watch, without even holding the phone. The Matrix power watch series 2 can charge from solar power and body heat in place of electricity, while Apple watch can enable wearer to obtain an electrocardiogram heart reading without any extra accessories.
Also Read: Micro-LEDs: An Innovation – Driven Future of Virtual and Augmented Reality Using Artificial Intelligence Algorithms
SmartJewelry:
The most leading smart jewelry is the smart ring. It is worn on the finger just similar as a standard ring. Much other smart jewelry exist in the form of bracelets to bangles, designed by popular fashion enterprises. A firm named Joule, is soon going to enlarge its series of smart earrings. It is to be noted that a smart jewelry may provide a less intrusive means of monitoring user's health as compared to a smartwatch.
Smart Clothing:
Smart clothing, on the other hand, can offer deeper insights that other modern wearable technologies because it can make contact with a larger amount of user's body. Thereby, it enables advanced tracking for both lifestyle improvement and medical tracking.
The Samsung Group is planning to launch smart shirts which will be able to diagnose respiratory diseases. Similarly, Tommy Hilfiger is trying to add location tracking functions to its jeans. This way, several other global companies have begun to utilize smart clothing in order to build brand loyalty.
Also Read: Natural Language Processing In Finance- Acing Digitization Game
Furthermore, wearable technologies have been evolving so much that it can even be inked in user's body in future. Smart tattoos will include flexible electronic sensors, through which they will be able to monitor brain and heart activities, blood sugar levels, muscle functions, and sleep disorders. In brief, smart tattoos will work like a personalized circuit onto the skin.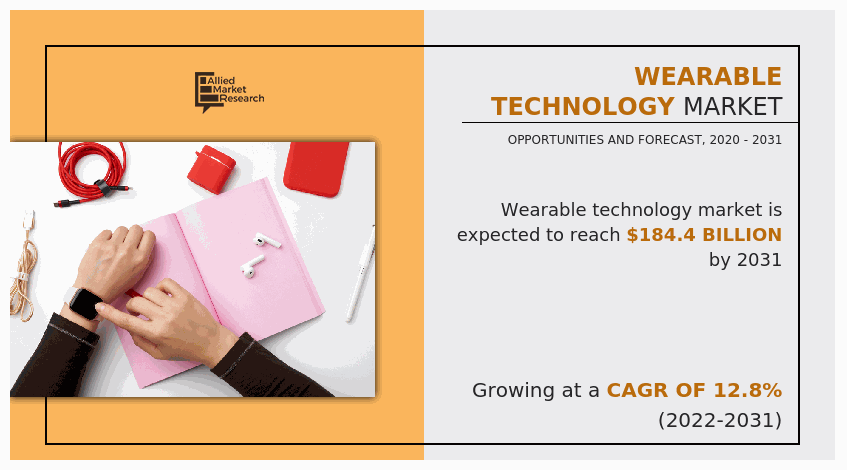 With this drift on board, wearable technology is anticipated to continue to evolve and shower exponential growth to the wearable technology market in more than one way.
The growth of the global wearable technology market is driven by convenient usage of wearables and entry of various smartphone manufacturers. In addition, rise in health concerns among consumers fuels the adoption of wearable devices, which enable them to provide real-time information on their overall health.
Multiple benefits offered by these devices, such as GPS tracking, heart monitoring, and notification alert further supplement the wearable devices market growth.
Moreover, rise in disposable income of consumers and increase in standard of living propel the Wearable Technology Market Growth. However, increase in security concerns is projected to hamper the market growth, as the risk of data leakage is a major issue for users.
Moreover, the limited battery life and high manufacturing cost restrain the market growth. Advancement in wearable devices technology is expected to provide numerous growth opportunities for the market.
The key players profiled in the Wearable Technology Market Analysis include, Apple Inc., Fitbit, Inc., Garmin Ltd., Adidas AG., Nike, Inc., Samsung Electronics Co., Ltd., Sony Corporation, Huawei Technologies Co., Ltd., LG Electronics Inc., and Motorola Solutions Inc.
These players have adopted various strategies, such as product launch, collaboration & partnership, and acquisition to expand their foothold in the wearable technology market.
Apple introduced Apple Watch Nike+, which is an important tool for runners, pairing exclusive Nike Sport Bands with Apple Watch Series 2, which features GPS, a two times brighter display, water resistance up to 50 m, a powerful dual-core processor, and watchOS 3.
The introduction of technologically advanced products is likely to gain acceptance among the tech savvy people, specifically in developed regions of North America and Europe.